Ryanair, la aerolínea número 1 de Europa, se convierte en partner exclusivo de Erasmus Student Network, ofreciendo a los estudiantes Erasmus un gran ahorro con descuentos, maletas gratis y ofertas de viajes a medida.
Ryanair, junto a Erasmus Student Network, se ha propuesto mejorar la experiencia Erasmus de todos los estudiantes europeos. Por ello, cuando viajas con Ryanair, todos los titulares de una ESNcard podrán disfrutar de un 15% de descuento en 8 vuelos simples (o 4 vuelos de ida y vuelta), la facturación de una maleta (20 kg) gratuita en cada uno de los citados vuelos y ofertas en vuelos, entre otros.
El descuento no funciona con bonos ni con códigos promocionales, sino con un sistema de base de datos consultada entre Ryanair y ESNcard.org (ningún dato es transferido a Ryanair, solo consultado por éste) donde habrá que introducir el número de ESNcard en una de las etapas del proceso de reserva online del vuelo. Para ello, todos los usuarios deberán:
- Registrarse en ESNcard.org.
- Añadir el número de su ESNcard a su perfil de usuario.
- Rellenar TODOS los campos en su perfil de usuario.
- Ir al portal de reserva dedicado a ESN y realizar la reserva desde allí.
Por favor recuerda que el descuento es PERSONAL. Antes de intentar utilizar el descuento de Ryanair lee la información (esncard.org/ryanair), términos y condiciones (esncard.org/page/terms-conditions-ryanair) y el FAQ (esncard.org/ryanair-faq).
____
Ryanair is Europe's largest airline company carrying 130 million customers a year on more than 1,800 daily flights from 86 bases, connecting over 200 destinations in 33 countries. Based on a low-cost business model, Ryanair makes travelling across Europe easier, faster, and more affordable.
Ryanair, along with Erasmus Student Network, has committed to improving Erasmus experience for all European students. That is why, when flying with Ryanair, all ESNcard holders are able to enjoy 15% discount on up to 8 single (or 4 return) flights, free 20 kg checked-in bag, and tailored travel offers, among many others.
The discount does not work with any promotional code, but with a system that matches the information given at Ryanair website and ESNcard.org (none of the data is transfered to Ryanair, only checked by Ryanair). During the reservation process, you will be asked for your ESNcard number. These process consists on the following steps:
- Register on ESNcard.org.
- Add your ESNcard number to your profile.
- Fill ALL the data on your user profile.
- Go to the special Ryanair portal for ESN (the Erasmus tab on your profile) and book through there.
Find out more via ESNcard.org.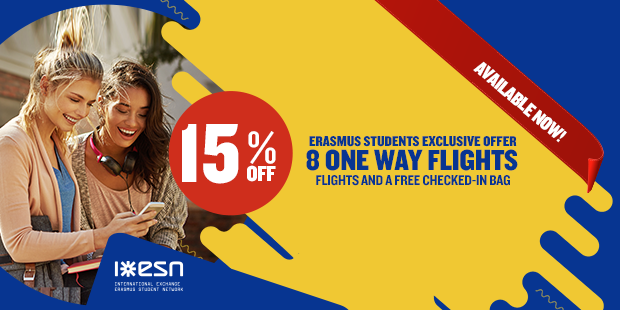 Please remember the discount acquired with the ESNcard is PERSONAL. Before trying to use the Ryanair discount read the info (esncard.org/ryanair), the terms and conditions (esncard.org/page/terms-conditions-ryanair) and the FAQ (esncard.org/ryanair-faq).
For the discount to apply, you have to be in possession of an active ESNcard.
Website: https://www.esncard.org/ryanair